Hello and welcome to Premier Handling Solutions' video series on running a safer and more efficient warehouse. Today's video will focus on the utterly unique RR1 Pallet Inverter and its importance in modern warehousing.
What is an RR1 Pallet Inverter?
Perfect for very wide or heavy loads, the RR1 Pallet Inverter operates on a different principle than most pallet inverters. Short for "Recline and Rotate," the RR1 Pallet Inverter tips a load onto its backside at a 90-degree angle, centering it perfectly over a turntable.
We weren't joking when we said the RR1 Pallet Inverter handles wide and heavy loads. Its load capacity maxes out at over 20,000 pounds and it can safely invert loads that are nearly 8 feet wide! This pallet inverter is great for inverting stacks of steel after stamping, handling mold-manufactured concrete, or turning piles of laminated boards.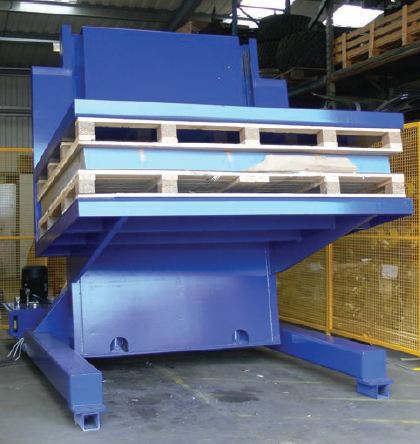 How to Use the RR1 Pallet Inverter
Step 1. Use a forklift to safely place your load up onto the pallet inverter. Here's that process:
Step 2. Use the controls to invert your load and rotate it. Here's that process:
Step 3. Use your forklift to pull the load back out of the pallet inverter. Here's that process: